Vendors Charter Communications | Spectrum Enterprise

Contacts
Sarah Hovan | Sr. Manager, Proposal Management
(314) 858-3559 O
sarah.hovan@charter.com
Renzhi Liu | Sr. Ent Contracts Specialist
314-858-3572
Current RFP Awards: Approved - National
Products and Services Under Contract:
Internet and networking

Fiber Internet Access
Spectrum Business Internet®
Ethernet Services

Managed network services

Enterprise Network Edge
Managed Network Edge
DDoS Protection
Secure Access with Cisco Duo
Cloud Security with Cisco+ Secure Connect

Voice and unified communications

Enterprise Trunking
Spectrum Business Voice
Unified Communications with Webex

TV
Click here to visit our dedicated MiCTA contract web page for more information about our products and services under contract.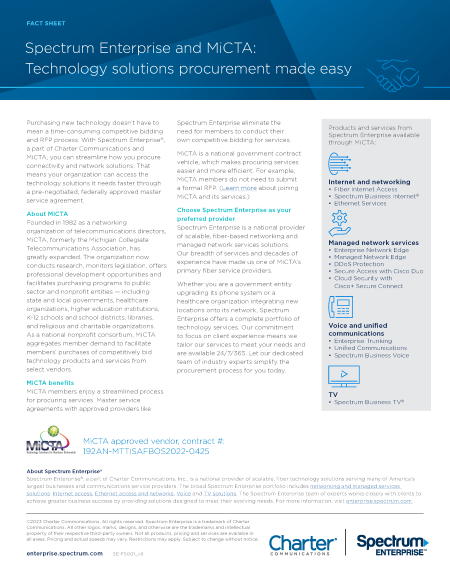 Download our MiCTA fact sheet for more information.
Press Release:
Using managed services to overcome modernization hurdles
Staff shortages, skills gaps and increasingly complex network infrastructure are prompting government IT leaders to take a serious look at managed services.
Click here to view our white paper.
Security
With the impact of cybercrime growing every year, it's vital to stay ahead of risks. Protect your organization's people, data and reputation with security solutions customized to your business. Each of our security solutions is designed to be flexible and intuitive, with 24/7/365 monitoring that automatically detects and responds to network intrusions. Built-in redundancy creates layers of protection to keep attacks from impacting your business and ensures you're always protected.
Operate anywhere
Assure your network securely supports both flexible work environments and distributed operations with solutions that help improve business communications, collaboration and productivity. Our remote workforce solutions include a full suite of technology services that allow you to operate anywhere with 99.99% availability,1 so your workforce is securely connected. And with our Unified Communications applications, it's easy to combine voice and video calling, messaging, meetings and content sharing.
Explore remote workforce solutions
Enable exceptional experiences
We understand the challenge of creating cohesive resident and employee experiences across multiple platforms. That's why we've designed our integrated solutions to help you manage this complexity. Our resident and employee experience solutions seamlessly integrate internet and networking, voice, collaboration and TV services. They're also built to be both flexible and scalable, so your business can easily adapt to new trends and opportunities.
Maintain business continuity
Ensure your network is as resilient as it is reliable with technology solutions that are designed to keep your data safe and your business connected through the unexpected. Our business continuity solutions are designed to minimize disruptions with proactive backup systems and 99.99% service availability. When usage increases, your network will flex to meet your needs, so you'll always have access. Plus, our local technicians are available 24/7/365 to identify, deliver and implement any support you need.
Explore business continuity solutions
Prepare for what's next
From adopting new technologies to expanding your team, our business growth solutions will help your network keep up with your business ambitions. Each customized solution is designed with your long-term goals in mind, with the flexibility to adapt should those goals or industry standards change. From implementation to support and beyond, our certified experts will help you stay on top of emerging technologies and provide 24/7/365 support.
Explore business growth solutions
About Spectrum Enterprise
Spectrum Enterprise, a part of Charter Communications, Inc., is a national provider of scalable, fiber technology solutions serving many of America's largest businesses and communications service providers. The broad Spectrum Enterprise portfolio includes networking and managed services solutions: Internet access, Ethernet access and networks, Voice and TV solutions. The Spectrum Enterprise team of experts works closely with clients to achieve greater business success by providing solutions designed to meet their evolving needs. For more information, visit enterprise.spectrum.com.