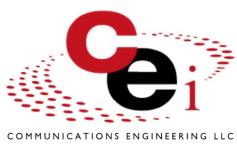 Date: September 14, 2016
To: DAS & Small Cell Clients of Communications Engineering LLC
From: Jim O'Gorman
Re: Tower & Small Cell Summit Notes of September 7-8, 2016
---
Take aways from the Tower & Small Cell Summit at CTIA Show in Las Vegas, NV
"5G-5G- 5G " is the latest from the town crier…you would think 5G is just around the corner…well it is sort of…at least if the Nokia or Qualcomm labs are around that corner. Optimism prevails. 5G is a mega trend and game changer and has a big brother in the FCC to smooth its path forward in the U.S. (more on that later).
What's so neat about 5G? In a nutshell: it utilizes a wide range and type of RF bands to deliver high speed, high capacity, low latency, and high security to billions of connected devices. 5G works in many bands; licensed, unlicensed shared and sub-6 MHz; and is designed to integrate with 4G. However, 5G will be context aware and will establish links based on applications and use network slicing to dynamically set up network resources.
Why 5G? To connect all those smart devices (machines, meters, sensors, wearables, etc.) and allow data communications that includes; security, physical tracking, payment, smart grid and remote maintenance and monitoring. Expectations of device growth - from 5 billion in 2010 to 50-100 billion by 2020. Increases in bandwidth demand from 92.5Gb user/month in 2016 to 388G/user/month by 2025. Speed, 5G works MUCH FASTER than 4G, in a demonstration of commands to stabilize a rolling ball on a flat surface 4G took 11 seconds while 5G took 3 seconds.
Potential benefits of 5 to G? Rajeev Suri, President & CEO Nokia thoughts: #1 is Time, 5G gives time back (autonomous driving, homes with life automation to reduce housekeeping; # 2 is Productivity, 5G will utilize sensors to manage grids and machines to optimize performance and production and # 3 is Healthcare at lower cost; ultra-small sensors will keep tabs on patients and improve quality of life for many.
5GNR: Qualcomm's Matt Grob, EVP & CTO introduced the 5G New Radio developed to deliver MIMO and work with multiple bands - also backwards compatible all the back to way to 2G…FYI.. Qualcomm used DNA GENOME mapping technology to develop it!
5G Internet of Things [IoT] requires: low bandwidth, low device cost, long battery life, extended coverage and end-to-end security. Chipsets have been developed for lower bandwidth requirements: CAT M and CAT 1 cap speeds at 300Kbs and 10Mbs respectively.
One would think 5G was enough to talk about at CTIA…but it wasn't…drones took the other stage. Think of a drone as a cell phone with propellers…the show floor even had a drone airport – lots of displays showing drones used for transport and information gathering…like checking out cell towers and agricultural fields or assessing damage from natural disasters.
Small Cells: are getting some respect and being installed…thanks to carriers' need for denser networks and communities' interest in smart cities. Costs and form factors have shrunk, but access to front haul and back haul fiber remains. Plus problems with funding remain...with few exceptions it will be on the property owner…more and more cellular is viewed as a utility...and necessary to keep the property attractive to tenants. Carriers will have to SHARE infrastructure resources to keep costs down and provide financially attractive solutions to landlords.
Managing interference will be key with small cell deployments. Creating isolation between macro and small cell networks to manage signal to noise ratio will take a significant effort.
DAS: expect to see it grow with carriers' need for densification in smaller venues, expect to see neutral frequency technologies such as MulteFire deployed in the CBRS space.
Towers are NOT going away…carriers may have stopped owning them and now are look for concessions on escalation and terms from tower companies. But they will have to pay the going rate. There is demand for macro coverage along with densification. BTW tower companies are infrastructure REITS…and they're big ones. Crown Castle and American Tower are BOTH in the S&P 500 Index.
Regulatory: FCC Chairman Tom Wheeler wants to keep the US as the leader in 5G…"more people in the world are connected with mobile than to the electric grid" and 5G is 'the missing piece in the puzzle" to create an environment of connectivity. To do this the FCC role has adopted a "Light Touch Policy" approach, staying away from technical aspects …while promoting and protecting competition; providing ample spectrum and removing hurdles to site acquisition. Feels this will attract the INVESTMENT that will lead to innovation and new developments.
Spectrum: FCC Chairman Tom Wheeler 600 MHz stated the auction would be redone in a matter of weeks. Reason…In Stage one the reverse auction (Broadcasters sell side) offered 126 MHz of spectrum (100 MHz available) and was for sale at $86.4B but the 'Forward Auction' (Carrier buy side) bids only totaled $23B so the 'Clearing Target' was missed. Auction is now in Stage 2 with 114 /90 MHz of spectrum with the idea that reduced spectrum and more interest from broadcast sellers will lower the cost per MHz and be more attractive to the carriers.
FCC adopted rules for CBRS [Citizens Broadband Radio Service] opening 150 MHz of spectrum in the 3550-3700 MHz band (3.5 GHz) for commercial use. FYI: Europe also plans to use 3.5 GHz for 5G.
Backhaul: FCC's Tom Wheeler would like to see more fiber at a fair and lower cost to provide necessary back haul infrastructure to support 5G small cells.
SHPO & Siting: FCC Wheeler stated the relaxed SHPO rules should speed up the siting processes for small cells in metro areas. Our "job" will be to stress the BENEFITS of improved wireless connectivity to city leaders e.g. smart city energy grid, health care, jobs creation and retention.
Privacy: FCC Wheeler sees need for carrier policies that enable users to control how their information is being used.
Smart Cities: 5G will play a role in connecting sensors for electric grid, water and transportation but also sensors for protecting our environment e.g. chemical, biological, radiological Nuclear and explosives. Densify the networks through small cells in kiosks, on purpose built poles and street lamps. LinkNYC has a nonexclusive franchise agreement with smart cities vendor CityBridge. The agreement gives the city 50% gross revenue with a minimum $300M payout, LLC over the extended term of 15 years. – CityBridge owns and operates the structures. Check out he franchise agreement!
Finally Shark Tank's Mark Cuban said the most outrageous new biz suggestion was for the Dallas Mavericks - a 6-foot Afro good for blocking shots! He was 'Out' on that one. Cuban sees big data and tech playing a role in personalized medicine - get individual care responses not generic answers e.g. when obtaining prescriptions. Mark would also like to see all the IoT 5G sensors not just return data but MAKE SUGGESTIONS on what to do…hmmm….like whether to watch Shark Tank?
Looking for more information about DAS, Small Cell, 5G and everything else wireless? Contact Jim O'Gorman below.
Jim O'Gorman, President
Communications Engineering LLC