Vendors Finley Engineering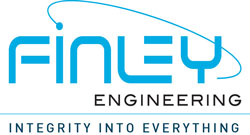 Contacts
Mark Mrla
Business Unit Manager
(507) 777-2222
Fax: (810) 667-3120
m.mrla@fecinc.com
www.fecinc.com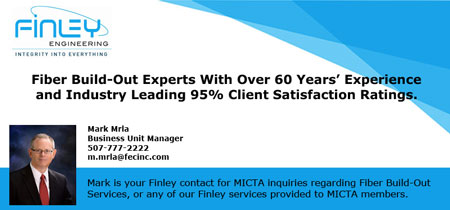 Current RFP Awards: Approved - National
Products Under Contract
Wide Area Fiber Build-Out Services

Engineering Design Services
Permitting Services
Right-of-way Services
Environmental Documentation Submittals/Monitoring/Managemen
Testing Oversight
IP Networking Engineering Services
Lease/Purchase/IRU Negotiation
Staking Services
Permitting Services Construction Inspection Services and Meetings
Pole Attachment Agreement Management
As-builts and Other Required Drawings and GIS Work
Engineering and Project Management Oversight
IP Network Oversight Services
Make-ready Identification Services
Vendor Profile
The Finley Advantage
The push is on to bring broadband services to more of our fellow Americans in communities across the nation. Higher speeds, greater cybersecurity and more focus on anchor institutions such as our schools, libraries and healthcare facilities create the perfect environment for MiCTA and Finley Engineering to enter into an agreement.
Finley Engineering Company has been around for over 60 years providing communication engineering and energy engineering services. We have experience in building out thousands of miles of Fiber. But it's not just our experience we like to talk about, it's also how we work with our clients. We don't use one set of plans for all clients. We pay attention to the goal of your project, the internal parameters and outside forces to work within and we create solutions uniquely generated for each project.
Our Professional Engineering services are supported by a deep support system and expert skill sets that don't always find their way into the spotlight, but are critical. Our IT Services department, CAD and Right-of-Way experts, Surveyors, Field Crews, Analysts, Project Managers and meticulous Accounting and Support Teams ensure that we bear the burden of project headaches and issues that may arise, so that you can continue to focus on your institution's mission.