MiCTA Radio
Introducing MiCTA Radio! If you want to hear from Real Technology experts about the emerging technology landscape and how it affects you, tune into our radio show called MICTA Radio. The shows provide in-depth presentations of MiCTA's services, as well as vendor profiles.
To listen to a show, simply click the play button in the red circle.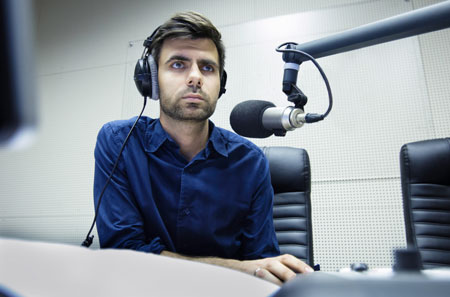 Todd Davis the Director of Government Marketing for CenturyLink explains to us some of MiCTA's best qualities and the parameters of the Iowa Communications Network (ICN) agreement with CenturyLink.
A look inside the Iowa Communications Network with executive director Ric Lumbard. This government agency is the entire state's communications carrier working to give the residents of Iowa strong bandwidth and the best connectivity available. Ric explains what it means to be "Broadband Strong" and the three words that drive the company - Strong, Flexible and Fast".
In this episode, we sit down with Richard Kasslack, VP of Strategic Accounts for Phybridge. We talk about of the unquie PoLRE switch delivers Ethernet and Power over Ethernet over a single pair of wire with up to 1,200ft (365m) reach. This means you can transform your existing, proven reliable voice wiring infrastructure into an IP path ideal for IP Telephony complementing and extending your existing data LAN.
A discussion with author Rodney Perry author of Cellular Savvy - the essential guide for improving cellular performance in your venue , campus, or arena. Rodney tells us about the past and future of cellular technology, and DAS business models.
A look into the Finely Engineering Company with our guests Barb Ostrander, Mark Mrla, and Laren Metcalf. They discuss construction and engineering telecommunication systems within the Finely Company.
New mobile safety application designed to immediately alert authorities of potential attacks, with creator of Lifeline App, Peter Cahill.
Discussing E911, a service that helps to more accurately locate an emergency within a building, with Rick Coy, Telecommunications Lawyer from Clark Hill PLC.
An overview about MiCTA, the Grant Program and the RFP process with Gary Green, MiCTA's E-Rate Consultant and COO Tim Vonhoff.
A look into the world of cyber-crime and the severe damage caused by cyber-criminals, with guests Andrea Hoy and Edward Slaton of Strategic Management Associates. We discuss how and what you should do if you fall victim to these attacks as well as how to prevent them.
A discussion with Dr. Walt Magnussen, Director of Telecom at Texas A&M University, and Gary Green, MiCTA's Healthcare Connect Fund and E-Rate Consultant, about the process of Fiber Build Outs, the Rural Health Care Program and how the HCF funds are being used to build out rural America. We also discuss MiCTA's national RFP for Fiber Build Out, which is the first of its kind.