Marketing Internship Job Description
Organization: MiCTA is located at 4805 Towne Centre Road, Suite 100, Saginaw, MI 48604.
Organization Description: MiCTA is a national non-profit telecommunications and technology association that aggregates purchasing power and develops Requests for Proposals (RFPs) that result in Master Service Agreements (MSAs).
Requirements/Skills: Marketing interns will be actively enrolled in a university marketing, advertising, or other business related program. Current students will preferably have at least sophomore standing. The individual must have a G.P.A. of 2.7 or better and demonstrate the ability to undertake basic marketing writing assignments, and posses an understanding of basic media relations skills, an ability to interact professionally with clients/vendors, and utilize good judgment. A working knowledge of computers / various system and software applications (i.e. Window 7 and/or XP, CitySoft etc…), as it relates to word processing and database management software is necessary.
The marketing intern will be mentored by the COO and the Office Manager. The MiCTA Staff will help the intern prioritize tasks and focus on multiple projects and deadlines simultaneously. Interns will work 20 hours a week. Prior relevant experience is preferred.
Responsibilities: We are looking for a paid intern to work with us on a wide variety of client projects including new and existing initiatives as it relates to "real marketing" (i.e. media research, outreach campaigns, product management, e-marketing, strategic marketing, statistical/survey analysis, competitive research etc…)
Organization: MiCTA is located at 4805 Towne Centre Road, Suite 100, Saginaw, MI 48604.
The Intern:
Drafts basic marketing materials including news releases, media alerts, fact sheets, flyers, client meeting summaries, status reports and other materials as directed.
Carries out special and media event planning activities and arrangements as outlined by the COO and the Office Manager.
Attends and participates in client meetings, media training sessions, presentations, traffic meetings, and brainstorming sessions as directed.
Assists with the development and updating of media lists and other databases, including client, marketing, prospect and administrative databases. Other tasks include database creation, data entry and update additions and corrections. The intern will provide data output in the form of letters, fax lists, data lists and other reports as requested by the COO.
Assists with the distribution of client information/materials or the organization's marketing materials. Also ensures completeness and accuracy of information and assists with the management of destination lists, and coordination of fax, mailing or broadcast fax activities. In addition, conducts appropriate follow up when necessary. (i.e. conference follow-up)
Assists with the management of outside vendors to successfully complete outside work, including, but not limited to printing of materials, website content management (i.e. potential vendors, e-mail blast campaigns, member updates, member list, etc…) and graphic arts services or supplying needed products.
Assists with administrative duties including fax processing, sorting, collating, mailings and other administrative functions as assigned.
Assists with the management of documents, conference materials, periodical and supply inventories for easy access.
Completes a bi-weekly time slip, reviews and responds to all administrative duties and activities as assigned in a timely fashion.
Supports the organization's efforts by drafting new client release materials and performing research activities.
Assists organization staff with other client, business development and organization management projects as needed.
MiCTA Interns
Nick Petoskey
My name is Nick Petoskey and I am a junior at Saginaw Valley State University and I am currently the finance intern here at MiCTA. I am planning on graduating in May of 2017 with my Bachelors of Business Administration in Management. If I do not get the opportunity to work for a non-profit after college, I would definitely pursue that career path a few years down the road.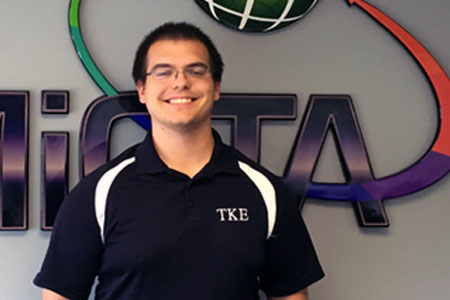 College Involvement: Tau Kappa Epsilon
High School: Michigan Lutheran Seminary - Saginaw, MI
From: Wyoming, MI
So far, I have really enjoyed working at MiCTA. I have learned more than I ever would have thought when it comes to finance. Just a few weeks ago, I looked to see if I could work in finances when I graduate even though it is not my major. From the moment I started as an intern, I was trained step by step in the daily operations of the company. Nothing has been too challenging so far, but you always have to verify your work and pay attention to every little detail. I have also familiarized myself with programs such as QuickBooks and CitySoft. I hope that one day I can use what I have learned here at MiCTA and apply them in my professional career after college with my degree.
Alex Cicci
My name is Alex Cicci. I am a junior at Northwood University and currently an intern at MiCTA. I am currently pursuing a Bachelor's degree in both International Business and Marketing. From there, my goal is to work at a global company and eventually be in management.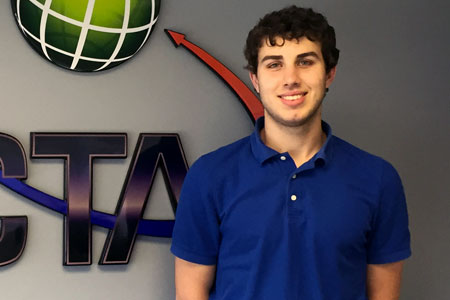 From: Macomb, MI
High School: Dakota High
Hobbies: Basketball, Soccer, Movies, and being with friends
Age: 20
My internship at MiCTA has been a great experience so far. It has been very beneficial to see how a national company operates from the inside. The work structure at MiCTA is great. Everybody is very helpful and all of the employees do a great job working together to achieve the company's goals. MiCTA has a very friendly atmosphere in which I am not afraid to ask questions. Working alongside experienced employees has allowed me to learn about how the company operates smoothly day in and day out. I have already learned a lot about the services MiCTA offers and all of the ways that they help their members. I have been able to work with programs that I have never used before such as CitySoft, QuickBooks, and Google Docs. I plan on using the knowledge and experience gained from this internship to help me achieve my goals and aspirations in the future.
Lance Dargavell
My name is Lance Dargavell. I'm currently on my last year at Delta College, and became an intern here at MiCTA in late September. I'm working towards a degree in Electronic Media Broadcasting and digital film. My goals for this internship are to gain new experiences, and hopefully use this as a stepping stone towards finding a career path that I feel suits me best.
Lance Dargavell
From: Lake Orion, MI
High School: Lake Orion High School
Hobbies: Baseball, Watching Films, and Outdoor Adventures
Up to this point I would have to say my internship experience at MiCTA has been unique and exciting. From moment one I quickly fit in, because everyone is so helpful and friendly. The rest of the staff has a long background with MiCTA, which made their teaching and my comprehension efficient and constructive. Being a media marketing intern here I've had the chance to learn what exactly MiCTA provides as a service for its customers. Touching up on and extending my skills with programs like Adobe Photoshop and Premiere have been a part of the day to day. Not just learning to enhance my skills editing media content, I've also been presented with opportunity to film content for MiCTA allowing me to re-sharpen and experiment with filming and setting up. I feel there are always new things to learn here at MiCTA, I will use MiCTA as an eye opener into what great possibilities are out there for a career in media. test54