Greetings, Dawn.
Your nomination for the 2013-2014 Educator-of-the-Year award in the Academic Leadership category is evidence of your hard work and your dedication to AIU. I would like to congratulate you for receiving the 2013-2014 Distinguished Educator award. This recognition along with the Educator-of the-Year award are important because they recognize those instructors who received the highest scores in their respective categories. Our heartfelt congratulations go out to you.
CEC believes that our strength as a company relies on the strength of its faculty; after all, academics is at the heart of what we do and who we are. This is reflected in this award process.
We hope that you feel as honored in receiving the Distinguished Educator award as we are in having you at AIU.
Robert A. Manzer, PhD
Provost & Chief Academic Officer
American InterContinental University
---
About Dr. Dawn Kaiser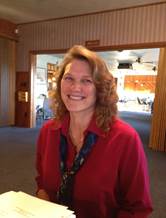 Dawn Kaiser is a Lead Instructor in the Business program for the Online Campus. She was nominated in the category of Community Service and Partnership because of her ability to extend her influence beyond the classroom through a connection of academia with the real world. Dawn sits on many Agency Boards, Associations and School Boards as well as participates in several philanthropic organizations. All of these organizations allow her gain additional perspectives which she is able to share with her students. Dawn participated in the rewriting of the discussion boards for a master-level business course that reflected the reality of tomorrow's business environment. This drive and attention to detail allows Dawn's students (and all AIU students) to be better prepared to enter the business world and positively impacts what our students can offer to prospective employers.
Being involved in different education related boards and committees have allowed Dawn to stay abreast of how education is affecting all ages. She is a firm believer that if our course content does not keep up with today's rapidly changing business and technological environments, then we stand to fail our students who expect high quality career-oriented training. These are the students who will become our future leaders.
Please join us in congratulating Dawn on her nomination.